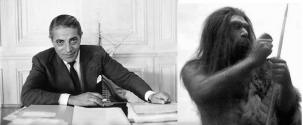 There are two basic reasons why I have chosen Aristotle Onassis as an ideal type of a modern "Neanderthal";one is personal and the other is more general. The first reason has to do with the older son of the woman friend to whom I have dedicated all those personal letters in my site. The son had been my student since he was 12 years old until the time he went abroad for his university studies. His father, who is a truly successful businessman, had only once given him a book as a present(from what I know), and that was when he was 17 years old. This particular book was the biography of Aristotle Onassis, and his son revealed to me that his father wanted him by reading this book to acquire the "proper guidelines" in becoming "socially successful" and of course "financially powerful". "At that time", the son considered his father΄s gesture as strange, while I don΄t think he ever read the book.
The second reason why I have chosen Aristotle Onassis as an ideal model of a modern "Neanderthal" is because it touches present day life absolutely, since we meet everywhere the "Neanderthal" human type in variant degrees. We naturally have to start from the richest inpiduals in the world whose names are easily accessible to us as they are mentioned once a year in the financial magazine "Forbes". We then go down the ladder to include the less powerful ones such as politicians, financial middlemen, the ruling bodies of the various established churches, the upper echelons of the judiciary and the executives of the mass media and entertainment organisations. Then we go to the doctors, the lawyers, the scientists, the academicians, etc., arriving finally at the simple labourer(proletarian), who is now "ready" and "willing" to sacrifice everything;his health, his family, his fellow-beings and friends, his freedom of thought and his personality, in order to "enjoy" those material possessions which "in principle" could provide him with the "social security" and the "social status" which are essential in determining how "successful" he really is.
In this whole gamut of modern "Neanderthals", who by the way represent the majority of people worlwide, Aristotle Onassis truly is an "ideal model"for many reasons;some of these we shall examine as we progress with our text. When Aristotle Onassis was alive, he was one of the richest persons and entrepreneurs in the world. He was someone who adored publicity, due to vast amounts of egotism, self-centredness and of course deep personal insecurity. As a consequence, we have a lot of information concerning his private life, as well as his social and business activities. Finally, I am convinced that Aristotle Onassis still remains "an archetype to success" for many entrepreneurs around the world, but also a "success story" for most Greek peoples, regardless of their social or ideological background, since he was "one of their own kind".
Aristotle Onassis was born in the city of Smyrna in Turkey, in 1900. He came from a rich greek merchant family who had lived in Asia Minor since time immemorial. With the destruction of Smyrna by the Turk Nationalists in 1922, the family lost all of its wealth, and the then young Aristotle Onassis, was forced to immigrate alone and peniless to South America. He established himself in Buenos Aires, the capital city of Argentina. A man of great energy and charm, cunning and unscrupulous, he was able to "penetrate" into the business circles of the country, by delivering his "sexual aptitudes" to rich mature "ladies" of Argentina΄s "high society". One should never forget the fact that both "socially" and "culturally", the "trade-mark" of male superiority in a male dominated human civilization of 6,000 years, has never been a man΄s mind but his "dick", and all the parameters of power and strategy that are derived from this "living human organ"(battering-ram). While it has been proven historically, that this particular utility of the "male human genitalia" has not been the exclusive privilege of male heterosexuality, but of the whole spectrum of male sexual activity. And of course all these years(6,000 years), the female gender has pretended ignorance and non-involvement so that it can have a share of that power. If in our human civilization of 6,000 years, it was the "wise" and the "democrats"(in their primeval context) who would have been the ones to define the fortunes and the directions of human beings, mankind would not today be "on the brink of self-destruction"(annihilation of nature).
The "sharp" Aristotle Onassis began his personal fortune in the tobacco trade as his father once did in Turkey, but he soon directed his business ambitions to the shipping industry. He was able to exploit the "booty" of WWII by the victorious Americans(a large number of idle merchant vessels which had stopped supplying materials to the war zones in Europe) and the close relations he had initiated in the United States with the Kennedy family. The Kennedys had had direct access to America΄s political and business establishment. We have to mention here that Aristotle Onassis became a close friend of the Kennedy family when in the 1940s, he moved to California and began a "sexual΄ not a "love" affair with a famous, mature but rich Hollywood actress of the silent movies, Gloria Swanson, who "just happened" to be the last mistress of Joe Kennedy, the patriarch of the Kennedy Clan and the "godfather"of the Irish-American Mafia. Joe Kennedy was also a major investor in the movie industry and the most important producer of alcoholic beverages in the United States. Through these "murky" contacts with american businessmen and politicians, Aristotle Onassis was able to acquire many merchant vessels that had been used during WWII and now stood idle, at very low prices, thus creating his first merchant fleet. He now owned houses in Buenos Aires, in New York, in California, in London and in Paris, and had become a multmillionaire ship owner. His next hurdle was to become a full-member of the Greek Shipping Establishment, a member of the Greek Shipping Aristocracy who saw him as a "pariah"in their world shipping domain. He once again succeeded by making "sexual" advances on the daughter of the most powerful greek shipping tycoon, on Athina Livanos. Aristotle Onassis married Athina Livanos in 1946, when she was only 17 years old and he was 46. Her father, Stavros Livanos, never forgave him for that!!!