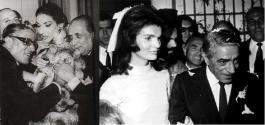 In the previous sections of our article on Aristotle Onassis, we described the strategies, the personal aspirations and the ethics of this protagonist within the context of his entrepreneurial activities worldwide ,and how he exploited in an "unfeeling" and "self-centered" manner opponents, colleagues and whole societies when these human components found themselves in a weak position. In exactly the same way , Aristotle Onassis functioned in his very personal relations, whether these were within his very own family or in the relationships he created with the 3 women who made a real imprint in his life; Athina(Tina) Livanos, Maria Callas and Jackie Kennedy.
In the first sections of our article on Onassis, we mentioned that from a young age, starting his long and complex business career in Argentina, he used his "male" charm and his "sexual" instinct , first to attract "mature" women of a high social and financial status(ruling class), and once he became accepted socially as a small but rising ship-owner, he began to use his "weaponry" on women who could make him famous in the social circles of the "economic elite" of the world, especially within the circle of the powerful Greek Ship-Owners. That is the reason why all these "mature" and "respectable" ladies of Argentina's High Society who had "sexual relations" with Onassis during the 1920s ,remain almost anonymous in his biography. In contrast, from the mid 1930s, when the Greek tycoon is at last acknowledged as a "rising entrepreneurial star" by the "elite" of the Greek Ship-Owners, traveling from Buenos Aires to New York, and from London to Paris,his "sexual partners" at certain times would be Eva Peron, the wife of the future military president of Argentina, Juan Peron(1946-1952), Gloria Swanson, the famous Hollywood film actress of the silent movies and mistress of Joseph Kennedy,a powerful American businessman and politician, as well as the head of the Irish Mafia in the United States(father of American President John F. Kennedy, Attorney General Bobby Kennedy and Senior Senator Edward Kennedy) and Greta Garbo, the most famous Hollywood actress at that time(p.3.http://www.rodosport.gr/ enlefko/onasis.htm).
The next "human target" of Onassis was the "fourteen" year old daughter of the most powerful Greek Ship-Owner, Stavros Livanos .The first time he met Athina (Tina) Livanos, was in the spring of 1943, at the suite of her father at the Plaza Hotel in New York where she was staying with her mother Arietta and her older sister(by two years), Eugenia. By making use of his usual " Anatolian manipulative trickery"(the mid-oriental merchant mentality), Onassis was able to approach Tina's mother, befriend Tina's older sister Eugenia and to charm the 14 year old Tina. Even though Tina preferred the more attractive Stavros Niarchos, who was also a rising ship-owner and of the same age as Onassis, the last was able to convince the family Livanos to reject the marriage proposal of Niarchos for the hand of Tina. In time, the family came to accept him as their "guardian" during the occasions when the "pater familias" , Stavros Livanos, would be traveling to the four corners of the world taking care of his vast shipping interests. In the end , the "cunning Anatolian" (grew up in Asia Minor) with his "predatory instinct", succeeded after three years of "persistent stalking" to marry Tina Livanos in 1946, when she was just 17 years old and he was over 45. There is factual information which states that "…Tina herself used to tell her friends that her role was to just be around Onassis, like an expensive piece of jewelry…"(trans. from Greek)(p.4.http://www.rodosport.gr/enlefko/onassis. htm). Throughout his life, Onassis behaved in his business activities and in his "love affairs" as a "wild beast", making onslaughts exactly as a modern "Neanderthal" who is going hunting "all alone" in the wild!!! He wanted to absolutely impose himself "on everything and on everyone" because he had no emotional connection(altruism, empathy) neither with his fellow human beings, nor with his mortal existence, and especially not with his own "inner person"!!!
With Tina Livanos, Onassis first had a son Alexander born on April 30th 1948, and on December 11th 1950,their daughter Christina was born. As we have already stated, the marriage relationship of Onassis with Tina Livanos was more "iconic" or "virtual" than "real", since she was the one who opened "the doors wide" for him (through her father) to become member of the "exclusive club" of the Greek Shipping Magnates, while also offering him "international notoriety" using the socio-economic links which her powerful family had with the "caste" of the mighty money-men of the world(p.4.http://www.rodosport.gr/enlefko/onasis.htm). Their "virtual relationship" is demonstrated by three specific facts. The first and most critical one is that Aristotle Onassis after his marriage with Tina Livanos in 1946, continued openly to have "sexual relations" with many famous women. Some of his "sexual lovers" at that period were Marilyn Monroe, Grace Kelly before she married Prince Renier of Monaco, the younger sister of Jackie Kennedy,Caroline Lee Bouvier, and finally Maria Callas who was the reason why Tina divorced Onassis in 1960( p.5-6.http://www.rodosport.gr/enlefko/onasis.htm).A second indicator of this "virtual relationship" was that very soon after their marriage, Tina confessed to Onassis that Stavros Niarchos was still in love with her, even though he had married her older sister Eugenia in 1947(p.4.http://www.rodosport.gr/ enlefko/onasis.htm).The third factor which showed "the great void" within their marriage were the revelations that while they had two children together, any real contacts between them were "far and few". They spent time together only when it was imperative for "public relations", "business protocol" and a "social image" which they had to maintain in response to the "superficially" austere and traditional social environment which was that of the Powerful Greek Ship-Owners. The consequences of this "virtual reality" on the "quality of life" of Tina Livanos was that she soon began having extra-marital affairs and had slowly developed an addiction to narcotics and alcohol(p.2.http://everything 2.com/title/Aristotle % 2520 Onassis).
In 1961, Tina Livanos married John Spencer-Churchill(1926-    ),Duke of Marlborough. He was divorced with 3 children,was a distant cousin of former British Prime Minister Winston Churchill and one of the richest members of the British Aristocracy. Their marriage lasted until 1971, and they had no children together (p.1.http://en.wikipedia.org/wiki/John_Spencer-Churchill_11th_Duke_o…).Finally, Tina Livanos married her very "first love" Stavros Niarchos on October 1971,since his wife and the older sister of Tina, Eugenia Livanos, was found dead(May 4,1970) in her house on "Spetsopoula" ,the private greek island of the family Niarchos.At the time, many knew that Eugenia Livanos suspected her younger sister Tina of having "sexual relations" with her husband .Even though the greek coroner had found signs of a struggle and bruises on Eugenia's body, the indictment against Stavros Niarchos by the greek public prosecutor was ignored, and the case was closed with a court order of dismissal of any wrong doing. Stavros Niarchos was a very powerful person, so "…the official cause of death which was adopted by the greek authorities was an overdose of narcotic substances…",implying indirectly a case of suicide(trans. from Greek )(p.1.http://el.wikipedia.org/wiki/%CE%95%CF%85%CE%B3%CE%..).This tragic event would be repeated a little later with Tina Livanos in October 1974 in St.Motitz in Switzerland and many years later with Tina's only daughter Christina, when in November 1988, she was found dead from an overdose of narcotic substances in Buenos Aires in Argentina. Eugenia Livanos died when she was 44 years old, Tina Livanos died when she was 45 years old and Chrostina Onassis died when she was only 37 years old.
Concerning this "relentless", "one-dimensional" and "materialistic" life stance of these "human beings", these modern "Neanderthals", I would like to mention two facts which are directly related to the real essence of Tina's existence. Tina in October of 1971, married Stavros Niarchos, her "first love", one and a half years after the wife of Niarchos, her older sister Eugenia was found dead in her husband's house on the island of Spetsopoula(May 1970), and there was sound evidence so that Stavros Niarchos could be accused of manslaughter. Second, when in October 1974, Tina Livanos commited suicide because she couldn't handle the emotional weight of her only son's tragic death, who had been killed (January 1973) when the small amphibian plane he was piloting crashed near the airport of Athens, her personal fortune as the daughter of Stavros Livanos would go to her only other child Cristina, the daughter of Aristotle Onassis. At that time, Tina's personal fortune was Estimated at 250 million american dollars,which with today's values should be around 3 billion american dollars. The then multi-billionaire Stavros Niarchos, and one of the most powerful ship-owners of the world, tried to "grab" this fortune from the young Christina, acting exactly like a "normal business predator". Finally, Christina through various court actions forced Stavros Niarchos not only to return to her her mother's money fortune but also her mother's jewelry and precious art pieces. As we can therefore ascertain , for all these successful entrepreneurs, what really matters in their lives and in their thoughts is "the chest of gold coins". How very ignorant and stupid!!!(p.1.http://en.wikipedia.org/wiki/Athina_Livanos).By the way , Alexander Onassis died at the age of 25.
As we have previously mentioned, Tina decided to put an end to her marriage with Aristotle Onassis in 1960, the cause being that she had discovered her husband having "sexual intercourse" with Maria Callas in one of the living rooms of his famous yacht, the "Christina". Maria Callas and her husband Battista Meneghini had been invited by the greek ship-owner to have a cruise trip around the greek islands in his boat ,along with other famous personalities such as former British Prime Minister Winston Churchill and former Hollywood movie star Greta Garbo(p.1.http://en.wikipedia_org/wiki/Athina_Livanos). The then 53 year old Onassis, had decided to make Maria Callas his own "private property", realizing that at 36 , she was the most famous greek woman in the world, since the artistic world internationally considered her as the best "primadonna" of opera of all times who "…was at the zenith of her singing career, having "revived" difficult operas which no other opera diva dared to sing. The audiences , from the Scala in Milan to the Metropolitan in New York, were completely mesmerized with her performances…"(trans. from Greek) (p. 3. http://www.liberopoulos.gr/listcats 3.php? subaction=show comments…). I suspect that for Tina Livanos, this was "the last draw". Since the beginning of her marriage with Aristotle Onassis, Tina had "played the fool" with her husband's numerous open extra-marital relations with famous women, had accepted passively his "emotional distancing" from herself and their 2 children, making at first great efforts at projecting to the outside world a "virtual" Greek marital reality. All these personal life concessions for the sake of her husband's "business public relations", especially in relation to the "club" of the Powerful Greek Ship-Owners, who "pretend" great loyalty and devotion to the "traditional Greek institutions" of family, religion and nation. For Tina Livanos the "love" relationship between her husband and Maria Callas was an "anathema" because this undermined her own "traditional" Greek Social Status as a "protagonist", as a wife, a lover and a mother in a socio-cultural setting which she belonged to, that of the "modern greek social establishment".
Aristotle  Onassis never married Maria Callas, even though socially they acted as a couple. The greek shipping magnate stayed with Callas for almost 10 years, until the time he married Jackie Kennedy. On the 20th of October 1968, Aristotle Onassis married Jackie in a small greek-orthodox church on his private island of Scorpios, spending a small fortune in order to make this "private event" into the "social event" of the year, even of the century. Naturally, for Maria Callas this "terrible betrayal" by Onassis was shattering, both psychologically and physically, because she was really in love with him. Her situation worsened when a month his marriage to Jackie Kennedy, Onassis went to Paris to spend a few days with Callas at her luxurious apartment there. These frequent visits by Onassis would continue until the end of his life (p.2.http://everything 2.com/title/Aristotle % 2520 Onassis), affecting negatively  the psychosomatic state of Maria Callas, who soon turned to sleeping pills and tranquilizers in order to cope with the emotional rift which she was experiencing within her. Maria Callas had become addicted to narcotic substances, as had Tina and Eugenia Livanos(p.2.http://cull.gr/read/7399). In the life or to be more precise, in the "entrepreneurial evolution" of Onassis, Tina Livanos, Maria Callas and Jackie Kennedy, represented critical steps for his rise to "absolute economic power" , since "…Tina   provided him with the future guardians of his vast empire, Maria Callas was a unique "piece of art" who gave him glamour and greater fame and Jackie Kennedy would provide him access to the gateways of the White House…"(trans. from Greek)(p.3.http://cull.gr/read/7399).
In the last part of our Epilogue on Aristotle Onassis, we will talk about his relations with his children, Alexander and Christina, the lives of his children and all about Athina, Christina's only child who he never got to know.